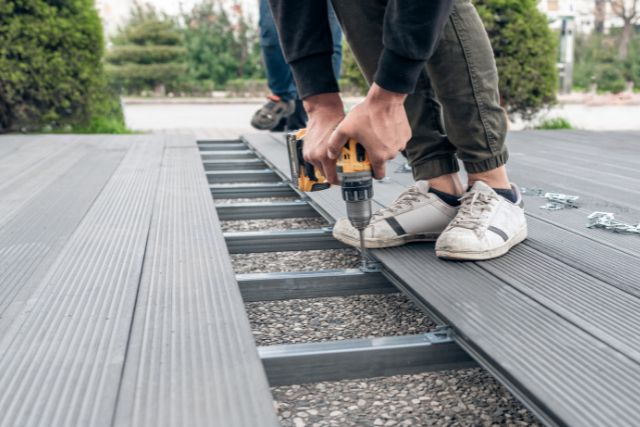 Composite decking can be a great alternative to traditional hardwoods. It lasts a long time and needs little maintenance. The material has also significantly improved over time in terms of color retention and resistance to wear and tear.
Simply put, composite is currently the most commonly used decking material. Why? Composite decking manufacturers provide a remarkable product that is tough, weatherproof, and brilliantly imitates real wood.
Even more, when it relates to synthetic, PVC, and composite materials, property owners benefit from less maintenance and a variety of design and color options.
Over the years, our team of deck builders in Erie, Pennsylvania has built scores of composite decks for homeowners and business owners alike. We have knowledge, and expertise, and are fully licensed and insured.
Wood-alternative boards have a much longer lifespan than those produced from conventional pressure-treated lumber when they are expertly installed by our crew. Many of the suppliers and manufacturers we work with carry 25- and 30-year stain and fading guarantees.
Are you ready to start constructing or replacing your deck? For a free cost estimate and consultation, get in touch with our local company today.
Why should you choose composite decking?
Popular decking materials include composite and synthetic PVC. They offer many advantages over wood when building a new deck. Think about these three upsides:
Wood alternative decks are so much easier to maintain. They don't need to be stained or painted every year and are simple to clean up.
There are many different design and color possibilities for composite decks, in addition to affordable grain finishes that give them a natural appearance.
Composite and synthetic goods don't deteriorate as wood does. Because the top does not splinter, the product lasts a long time and keeps its beauty and coloring for many years.
Even while these advantages are great, composite costs more upfront than wood does. However, the maintenance savings would cover these expenses in 4–7 years.
Our method for building a composite deck
Whether we're installing your deck or fixing it, our procedure is clear-cut and easy.
We arrange a no-obligation price quote at your convenience. This includes clear and transparent pricing, no unexpected fees, and a timeline for when the work will be finished.
As soon as you hire our team of contractors, we get to work. Once we get going, we finish your assignment quickly.
According to our philosophy, when a task is delayed, everyone suffers. But keep in mind that the method relies on stable weather and other factors.
We respect you and your home as we work. We maintain a clean job site. We deliver accurate, high-quality work, and maintain a regular line of communication with you to let you know how things are going.
Interested in learning more about the things we do? Call us right away with any inquiries.