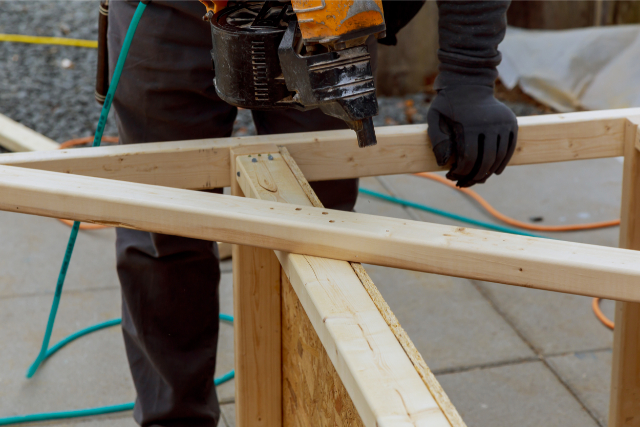 After a deck is installed on your home or business property, upkeep will most likely be required someday. Whether the decking is composed of wood or composite, it will experience some wear and tear.
The decking material may become damaged by water and dampness, rot, insect infestations, or stains from direct sunlight exposure depending on the conditions and weather. Damage is usually just aesthetic. However, there's a chance that it could injure users as well.
Our deck experts in Erie, PA can help if you are needing deck maintenance or refinishing. Under our contractors' watch,  hundreds of residential and commercial decks have received high-quality repair, restoration, and refinishing services over the years.
We fully identify any issues with your decking by way of a thorough evaluation. After determining the damage that has to be repaired, we present options that meet your needs and budget.
There is an outside chance that your deck cannot be properly restored. If that is the case, you might decide to have it disassembled and a new deck constructed.
Our quotes are accurate, clear, and completely free. We also provide reasonable prices. Get in touch with us right now to get your quote and discover details about how we may assist you with deck upkeep.
Main reasons for deck wear and damage
Do you need professional work done on your deck? Let's examine a few typical causes for needing deck maintenance
Weather effects
Typically, the effects of rain, snow, sun, high winds, and sleet on decks are negative. Common problems include staining, scuffing, and decomposing brought on by mosses, soil, and other issues.
Deck panels eventually decay and develop splinters. This is the start of a terrible cycle since splintering results in a rough surface that is difficult to maintain and clean. At the same period, dirt and unwelcome plants find a home on your deck. The result is a dismal and unkempt space.
Water damage
Another weather-related issue is moisture-related damage. The wood is prone to rot and will not provide strong support if the deck footers are submerged in water consistently or for a prolonged period of time, or if puddles frequently occur on the deck. In those circumstances, maintenance or replacement is required.
Additionally, discoloration is bad for decks. Weather conditions on your deck over time may cause the surfaces to fade. You'll probably have to re-stain and re-seal the entire deck to guarantee uniformity.
Unstable decks
A deck will shift a little bit as its major supports sink into the earth or get older and decay. It might not be a problem if there is very little sinking and settling. However, uneven or severe settlement might cause a weak point and endanger the deck supports. Extreme circumstances could result in the deck collapsing and ceasing to function. A slanted, unstable, or shaky deck can be a sign of settlement.
Insects
Unwanted insects and beetles may attack untreated or improperly handled wood. These insects might include termites, ants, woodworms, and wood borer. Bug-damaged wood might need to be replaced or repaired.
Contact our deck experts in Erie County, Pennsylvania for additional information and to arrange a no-obligation consultation. We are prepared to assist you with any necessary deck repairs.